"Energy through sound is an inexhaustible source of power and joy in life."
Dr. Alfred A. Tomatis, The Conscious Ear
Singing Water Presentation believes in the soothing, comforting, nurturing and invigorating effect of the human voice. We desire to promote conscious, dynamic listening and expressive use of everyone's voice through the art of singing, speaking, reciting, storytelling and devotional practices.
Any kind of singing is good, but specifically trained singing in a therapeutic environment can help promote positive attitudes, healing, and a good sense of well-being. Benefits can include:

Supplies nutrients to the nervous system

To relieve stress, anxiety & depression,

To increase constructive energy levels,

Reaches alpha & theta consciousness

For clarity of mind & purpose

Promotes positive attitude, deep peace, & a general feeling of well being,

Complements any applied healing program

By entrainment of major body pulses like heart rate,

breath and cranial sacral fluids, for optimum healing.
How are Presentations used?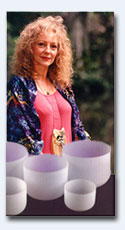 Each presentation features free-lyric songs sung with the resonance of other complementary instruments. It has been used in:

Corporate leadership retreats for esteem building


Group Meditation


Pre-Seminar Introductions, and


As complimentary care at the bedside of those under hospital,

nursing home or hospice care.

Private Sessions
Guided meditation and music is sung and played for you depending on your goals for the session. Excellent for healing physical or emotional discomfort, stress or reaching alpha & theta consciousness levels. (90 min. $125)

Groups
For corporate retreats, group meditations or enhancement
of special anniversaries.
A Presentation can be designed for your specific group objective.

BedSide. As an intern through the Music for Healing and Transition Program, I am able to offer this music at the bedside of someone you love. Like sending flowers to the hospital, soothing music can also be arranged at the bedside. (Call for details)

Presentations can be provided for small or large groups, your home, or place of business.
Other Presentations and Programs Available
Singing Water Presentations has been involved in the healing arts for many years. We can help you and your organization enhances your planned activity by providing a selection of programs to suit your needs.
Enjoy the beneficial dynamics
of free-lyric songs with singing crystal bowls
for healing and transition.
Other Presentations and Programs Available